We invite you to join Arkwright Home during New York Home Fashions Market Week from September 11th to 14th, 2023. Twice a year, members of the Home Fashion Products Association open their exclusive showrooms to volume buyers from all over the world. 
Our New Showroom
Revered as a premier showcase of home fashions, decor, and textiles, the 230 Fifth Avenue Building is home to the beautiful, new 1860 sq. ft. Arkwright Home Showroom. We are thrilled to host you in this inviting and spacious showroom. Visit Arkwright during NYC Market Week.

A Proven Strategy
Arkwright Home has over 100 years of collective experience in textile sourcing. Our goal, when meeting with mills in Europe and South Asia is always: 
"Compete with premium brands and eliminate the exorbitant licensing fees and overhead that artificially inflate the cost of bringing new products to market."
We meticulously design our collections to look and feel like strong, established European luxury brands, thus making premium home textiles accessible and affordable to mass-market retailers who wish to elevate their image with luxury offerings. 
"For example, our customers who purchased our inaugural Aegean Cotton Turkish Towel Collections have consistently reordered in higher quantities." 
Accolades and Inspiration
On the heels of the NY Now Summer Market, attendees have communicated their enthusiasm and valuable feedback for the Aston & Arden Collection, which is crucial and inspirational as we expand the brand. You can view the full Aston & Arden Luxury Textiles Collection alongside the ever-expanding Arkwright Home Collection during Market Week.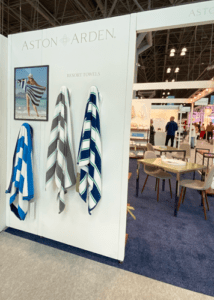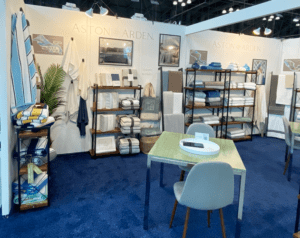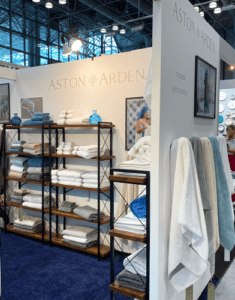 While Arkwright Home is open, we recommend scheduling an appointment, as it tends to get busy. Market Week is always beaming with activity as retail buyers scour the showrooms to procure the perfect items for their stores in time for the next season. Schedule your appointment now to see what the buzz is all about! 
Request a Showroom or Zoom Meeting
Meeting Scheduling Form
BACK TO NEWS