Tailgating is an integral part of game day festivities for many American sports fans. Although the pandemic curtailed many tailgating activities for 2020, this tradition is sure to bounce back better than ever once COVID-19 is curtailed.
Not to be confused with the act of the same name that involves following another vehicle too closely on the road, the social form of tailgating is an outdoor party held around the open tailgate of a car or pick-up truck. These get-togethers happen before and sometimes after games and concerts. They usually occur in large parking lots outside the stadium and arena entrances.
The tailgate party traces its roots all the way back to 1869 and a football game between Rutgers and Princeton at College Field in New Brunswick, New Jersey. Although this historic party predates automobiles, it helped launch the trend of friends getting together for food and drink before a big game.
Today, tailgating means big business. According to an article on Forbes.com, the amount of money fans spend on tailgating is in the $10 billion to $20 billion range just for football parties alone.
According to research by tailgating.com, a typical tailgater spends over $500 a year on tailgating food and attends or hosts six to 10 tailgate parties each year.
Both men and women shop for the events, and since the parties range from the simple to the extravagant, they can mean big business for retailers.
Here are five items that we think are perfect for tailgating parties.
Five Items We Love for Tailgating
1. Tailgating Table
We love this tailgating table from Cameron's Products. It is a collapsible folding camping table that comes with a zippered, insulated cooler, food basket, and four cup holders. The four tension straps on each corner ensure a stable surface.
2. Family Chef Scrubber Cloths
These colorful pads are ideal for cleaning up spills and mess during and after a tailgate party. The 6×7 pads, which come in a pack of four, are made of microfiber material that helps remove stubborn grime. Best of all, the pads are machine washable.
3. Team color tent lighting
Why just wear your team's jersey when you can go all out with an entire team-themed party complete with a chandelier for your tailgate tent? Check out the GoChicTailgating shop on Etsy for more ideas.
4. Stay cozy while you have fun.
Football game days can be chilly. These affordable polar fleece blankets are just right for draping around yourself during a tailgate party and in the stadium as well. They come in a variety of colors to help you represent your team.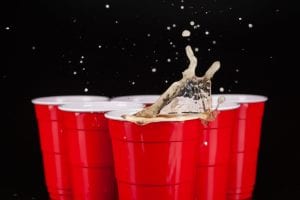 5. Tailgaters know that Beer Pong
While an essential component of the traditional tailgate, can be a messy activity. Bring along a stash of microfiber towels for quick clean-up for heading into the game.
6. Eat, drink, and be merry
With the Go Plate, you can keep track of your beer, your food, and all the action of game day without bothering with a table. Sold in packs of 10, these convenient plates fit right over your cup, can, or bottle.
What are your favorite products for tailgating parties? We'd love to hear your ideas.
BACK TO NEWS